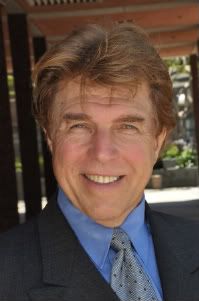 Peter Allman has been "the man on the scene' now for over 30 years. What makes Pete stand out from other commentators over the years? Perhaps it's his impeccable style. Or maybe it's his ingenious strategy for knowing how to speak to people, making them feel comfortable enough to bear their souls. Whatever the reason, there's one thing that will remain the same: Pete has been and always will be "the man on the scene"!
How did all begin? Pete always stood out from the crowd, even in high school. The son of a supermarket owner and an opera singer gave him an inherited knack for business and a talent for music. Pete had a music career in high school and attended the New York Academy of Theatrical Arts. At the age of 19 he packed his bags and headed for Hollywood. That was the beginning of his colorful career. He began interviewing celebrities for channel 18 KSCI. Although short lived, Hollywood in Action was created and Pete was marketing with Josh Michaelly.
Mr. Allman is certainly known for his versatility. While in Texas, he promoted jazz bands and began singing with Bubba Thomas and The Lightmen, and the Newport Jazz Winners. But Pete eventually left his heart in San Francisco. Las Vegas was calling his name. He arrived with barely a dollar in his wallet but managed to form the Pete Allman Show! The show opened at the Freemont Hotel and Casino and was the opening act for Wayne Newton. But there were struggles in Vegas and Pete decided to return to Hollywood.
I guess as they say, "the rest is history"! It wasn't long before Pete made a name for himself writing for print publications and hosting radio shows all over Los Angeles and various parts of California. He became known as "the man on the scene".
.
So just who has Pete interviewed? Let's start with James Brown, not to mention Robert Goulet, and Englebert Humperdinck. Pete has also interviewed media personalities from Oprah Winfrey to Larry King. The list continues with sports figures, movie stars, television stars, -even convicted felons. If that doesn't impress you how about the number 30,000. This "man on the scene" has interviewed over 30,000 celebrities! A staggering number to say the least.
Over the past 30 years, Las Vegas has been the hot spot for this commentator, broadcast personality, and celebrity interviewer. During the 90's Mr. Allman began producing TV commercials. He has produced over 300 entertainment television shows, which have broadcasted in Warner Brothers and channels 33 and 37. His radio shows have aired in KLAV, KVEG, KDWN, and numerous stations in LA. Today Pete produces television commercials, infomercials, as well as video biographies and travel videos!
After 30 years Pete's company, Celebrity Scene News- still entertains many. His current
projects include "Go Green American, a weekly environment show. Celebrity News can be seen on; MQM network, SBTV, Celebrity Scene on You Tube, and ED Magik TV. His articles and latest news can also be seen at; newsblaze.com, Las Vegas Hollywood magazine, Las Vegas Korea magazine, Hungarian Journal, www..vegascommunityonline.com , www.lasvegas.net, www..celebrityscenenews.com , www.wtvonline.net , and www.nafdfasions.com .
.
Pete Allman- not only "the man on the scene"-but a man well known for his journal contributions in the community of Las Vegas. Congressman Shelly Berkley gave Pete a certificate of recognition for his journalistic contributions. In 2006, Mayor Oscar Goodman decided to declare that May 21st be Pete Allman Day!
Pete Allman has certainly been an inspiration to many through his uplifting interviews and heart warming poetry. Whether it's a television show, a radio show, or a celebrity interview-Pete Allman will deliver…every time! You can count on Pete! You can count on "the man on the scene"!